We have been attending Ian Crane's Fracktured Future talks in Cardiff, Swansea and he will be in Ebbw Vale Friday 5th July. Does everyone realise just what the frack this will mean for us? A fracking nightmare!
We are compiling a downloadable letter that can be sent to MPs MEPs AMs etc etc. And we have taken notes at Ian's talks and will be forming them into an article on Fracking very shortly.
Bridgend firm Coastal Oil and Gas Ltd have put in the planning applications for Llandow, Bonvilston and Duffryn to do exploration drilling to see if the area has reserves for fracking.
If successful and they start fracking, here is what the Vale of Glamorgan will look like in a few years' time. Shocking isn't it?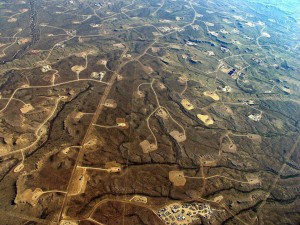 Also many sites around Bridgend, Llantrisant and Swansea are planned. Then it will be the Coal Bed Methane reserves from everywhre there is a coal mine!
There are so many issues and unanswered questions – it really appears that they just have not got a clue what they are doing!
Each well will take 4 million tonnes of fresh water – do I hear a hose pipe ban?
Each well means 300-400 HGV movements.
The wells will be floodlit 24/7
House prices will not only plummet, the market will crash
Insurance companies will refuse buildings insurance claims and may even refuse to insure in the first place
Water and land will be contaminated with poisonous methane and frack chemicals
We cannot let it happen to our beautiful countryside. Wales is our land – the Red Dragon will fight!
We will be at Ian's talk in Ebbw Vale Institute on 5th July at 7.30pm.
See www.ianrcrane.com
Also the presentation is on DVD on his website.