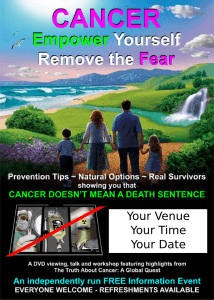 After the success of the Cancer event in Taffs Well on 2nd July 2016, we are looking for more venues where similar events can be held in the future.
Whether someone wants to use some of our resources created for the Taffs Well event and do their own thing, or if they want to book a venue and help promote it and have some of us come and present the information for you, we will try to help.
Now is the time for us all to empower ourselves and our communities with knowledge about the alternatives to the mainstream approach to cancer prevention which is failing so abysmally.
We have many resources at our disposal – templates for leaflets, posters, handouts in addition to video materials that can be shared. It is important to understand that no related products or services can be promoted during such an event, it must be purely educational from the standpoint of sharing existing available information with others. This is due to the Cancer Act 1939.
So please get in touch by email, through this website or through Facebook.
---
CHEMBUSTER / ORGONE ENERGY WORKSHOP
*UPDATED MAY 2017* We are hoping to arrange a workshop as part of our regular meetings this summer (2017) on making a chembuster and/or orgone energy generators to protect yourself and your home/office. Please email us or reply on here if you are interested in attending. Cost will be non-profit, just covering materials and expenses – anything orgone generator made at the workshop is yours to keep, if you want to make an actual chembuster, materials will need to be paid for at cost.