Get the Frack Out of Wales
by Holistic Dani & Teresa Lewis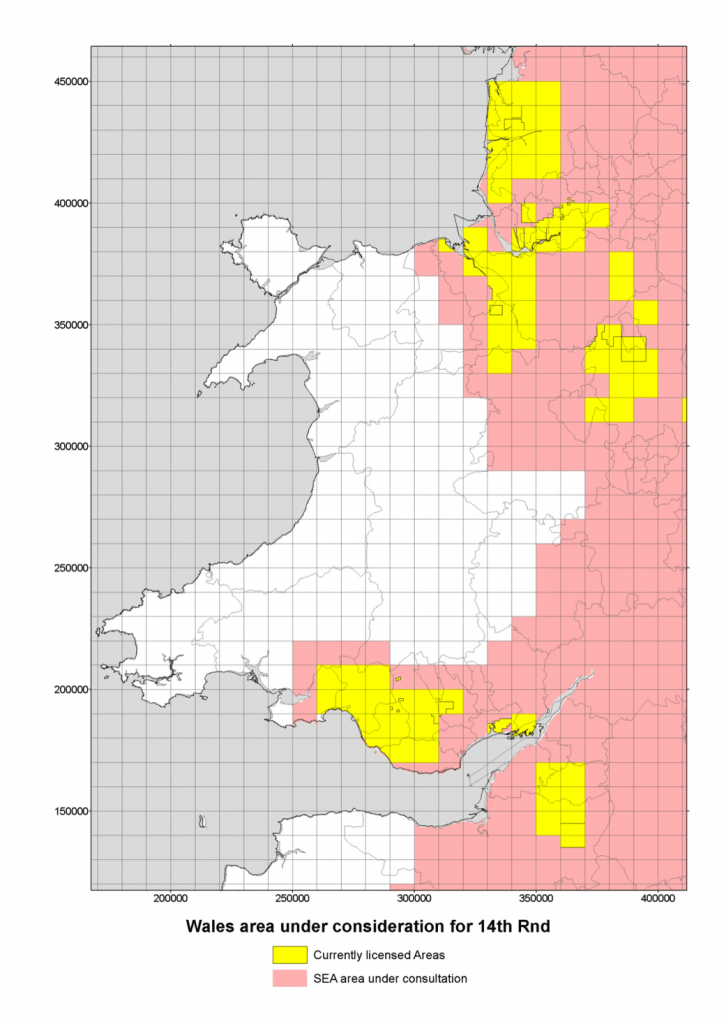 The map above shows areas of Wales that are licenced already (in yellow) and pending licence (in pink). Even though your area may not be affected at present, it is vital that we stop the fracking in Wales before it starts as once it begins:
a) the damage cannot be undone, and
b) it will set a precedence for other areas (in other words, once one area is approved the others will follow)
Below are some notes taken by Teresa at Ian R Crane's recent FRACKtured Future talks which he held all around the country. The full presentation is available on DVD on his website: www.ianrcrane.com
Bristol June 18th 2013
Fracking first started in the USA in the 90's followed by Australia.
Keith Taylor MEP for SE England managed to get a delay in drilling in Sussex. He knows more about this than any other MP or MEP in the UK.
BBC pushing propaganda in favour of fracking. eg, the recent Horizon programme, and an article "UK Shale Gas reserves may be bigger than first thought and created thousands of jobs" on BBC website.
IGas is behind this and its stock price has gone from 68p to over £1 since April 2013. This is based on hype not experience in fracking. They are about to get the green light. Centrica have bought a stake in Cuadrilla. Fracking 2 wells in Blackpool so far has led to 2 earthquakes which are up to 2.3 on the Richter scale.
We do not know what fracking will lead to in the UK. The British Geological Society see most of England and parts of Scotland and Wales as being viable for fracking. Parts of England and S Wales was already licensed for fracking in 2008 and there is another round of licensing coming up later this year. 64% of England sits above shale gas. Bristol is above both shale gas and coal based methane.

Land Owners:
Pennsylvanian farmer, Josh Fox, was offered a $300,000 bribe to allow shale gas fracking on his land and refused it. He then travelled across the USA to look at it. As a result he made the film "Gasland".
However, if you own land you are not safe. "Split Estate" means that the land owner only owns the surface of the land though only the landowner has access to it. The geology below it is owned by the state or the Crown who don't need access to the land surface to do the horizontal drilling. Therefore they do not need to negotiate with the land owner.
What parts of the UK is considered safe from fracking?
East Anglia, Devon, Cornwall and west Wales

Some of the People Behind Fracking:
Peter Sutherland is a global corporatist. He was responsible for cutting safety budgets which led to leaks in the transatlantic pipeline.
Sir John Browne. His mantra was "profit above all else". He worked for BP and is now a consultant for them. Has been in the cabinet since 2010 and is pushing UK to be heart of the shale gas revolution. This is a gross conflict of interest.
Francis Maude MP works for Cuadrilla and got John Browne into the Cabinet in 2010.
Mark Miller, health & safety director of Cuardrilla is denying contamination. He is young and inexperienced in the oil industry so set up to not notice the implications.
Top ten block owners
1. I Gas PLC
2. Dart Energy
3. Alkane Energy PLC
4. Cuadrilla Resources
5. Viking Petroleum
6. Egdon Resources
7. Connaught oil and gas
8. UK onshore Gas Holdings
9. Eden Energy Ltd
10. Celtique Energy Holdings
These have limited liability and lack of money so tax payers would have to pay any damages/law suits. They aren't well known either so no loss of business for the large companies.
Fracking Facts
Cuadrilla have 80 wells planned for the first stage of production.
Usually there are 6 to 8 wells per square mile.
There is a horizontal well dug around Blandford Forum in Dorset.
Fracking areas will be inhabitable within two generations if it goes ahead.
Each well requires 400 approximately truck journeys mostly hauling liquids and most of that is fresh water.
4 million gallons of fresh water is used to frack one well (and where is this water coming from? We already are subject to hosepipe bans at the first sight of summer!).
1 vertical well = 8 horizontal wells = 32 million gallons of water needed per vertical well.
It is claimed 99.5% is water and sand, the other 0.5% being 'Frack Fluid' or aggressive chemical additives to tear through the geology, but in reality up to 5% (10 times claimed) can be frack fluid.
Although this doesn't sound much, in 1 vertical well that is 1.6 million gallons of frack fluid!
Generally around 50% of the fracking water is not recovered and therefore lost in the geology and environment. That is 8 MILLION GALLONS of aggressive chemicals, LOST in our environment and polluting our land and water system!
Sometimes as much as 5% of the fracking fluid is chemicals. Here is an example of just SOME of the chemicals found in frack fluids (each oil company has its own mix).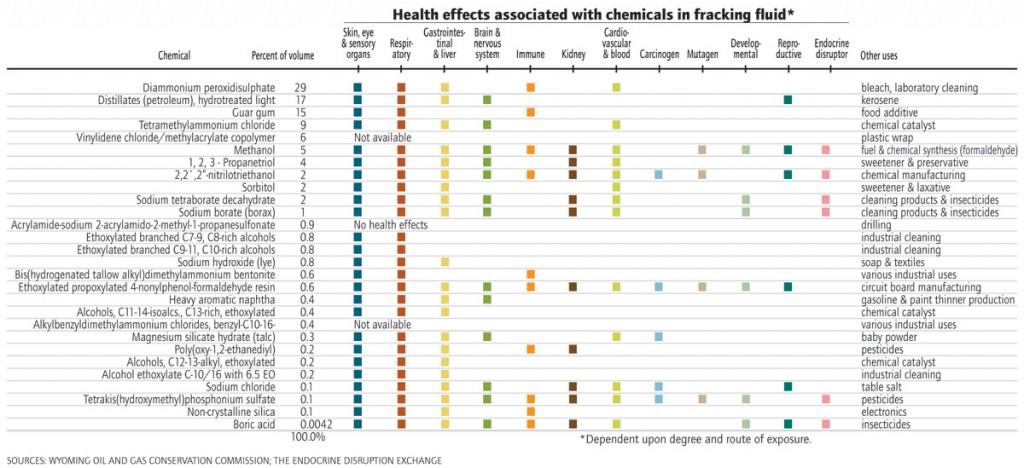 Key: carcinogen (causes cancer); mutagen (causes birth defects and abnormality)

The Process
Fracking drill sends a bore through the surface, through top layer of rock, then the underground aquifer (fresh underground water source) to the hydrofrac zones just below.
The bore hole is lined with casing and secured with concrete.
Blow out preventors are used for safety.
At 300m below surface bore becomes horizontal. There are generally 8 horizontal wells per vertical bore hole.
Explosives are placed down the well to break the casing.
Fracking water (water, sand and frack fluid) are pumped down the well
at extremely high pressure which is forced out through the breakages in the casing and into the tight geology causing it to frackture and release gas, which is forced into the well and up to the surface.
Fracking Concerns:
There is NO WAY of controlling the extent of the frackturing and this has a likelihood of fracturing surrounding more porous geology causing gas and frack fluid to seep out through the surrounding geology.
Methane is an endocrine disruptor so methane poisoning causes dementia and cancer. Dementia occurring in some people in their 40s and 50s living where there is fracking in shale gas basins in the USA.
Brian and Cathy Monk and their son Barry bought a farm in Southern Queensland three and a half years ago. Brian does not allow oil companies onto his properly but they may be drilling under it. They are picking up non-indigenous gases in the atmosphere on their land. They made a documentary called 'Gas for lunch at the Monks' (it appears this video has been taken down from Youtub, but Brian Monk's channel is HERE). There is a constant background of low level contamination. The hard baked soil in the dry season keeps the methane from fracking down. Gas bubbles come up on the mud in the wet season.
Methane is an odourless gas. They found 20 parts per million of methane on their veranda. They found a rig leaking near their property when out surveying. Barry was later slurring when they arrived back to their house though he was not drunk. He was rushed to hospital and was diagnosed with a calcium deficiency but according to a neuro-specialist he had methane poisoning.
Biomethane is naturally present in the atmosphere and water but the Monks are getting thermo methane from fracked coal seams as well. Land with biomethane provide base line measurements. The authorities contest it and claim it's all biomethane. Western Australia is ruled with a rod of iron by the psychopathic Gina Rhinehardt.
The aim of this is to drive people to the cities. Ireland has a population of 4.2 million and has lost half a million people under the age of 35 since 2008 through emigration. Dublin seems thriving on the surface but this is due to tourism only. Whole towns in Ireland have been boarded up.
The property market in Blackpool is now dead since the second earthquake there. House prices will rise hugely in the areas free from shale gas because of a massive influx of people moving in if fracking happens in the rest of the country. Peak water will also occur in the country because of fracking and too many people living in the West Country, West Wales and East Anglia.
At the moment excess water goes into the aquifers underground or evaporated so not lost to the system but when fracking starts water will be lost to the system. Accidents happen with fracking and the drillers lives are shortened. People are getting sick all over Colarado with doctors hushed up about fracking related illnesses. Fracking also going on in Pennsylvania and Oklahoma.
All UK natural resources are now shared with the EU.
Watch 'Coal Seam Gas – say it as it is' on You Tube. Water on the Monks' land is contaminated by gas. The authorities will only do testing for gas contamination on windy days to deliberately get a low figure.
Just to show how careless officials can be and how they cover up their mistakes:
Aluminium sulphate contaminated the water supply in 1988 in Camelford because the tanker driver was left the master key by mistake and opened up the wrong tank. Camelford now has highest levels of dementia in the country.
Solutions
Electric vehicles. Henry Ford was told to stop making them in 1896 by J D Rockerfeller and told instead to focus on the combustion engine. They were at the time quiet, fast and fuel efficient like the trams in many European cities. This was so Rockerfeller could make more profits from their oil company and maximise monopoly of the hydrocarbon industry. Tram companies were shut down. There is a collusion between the oil industry, car industry, banks and governments. Cars should be now doing 100 miles per gallon not 35 miles per gallon as there is the technology for this. Fuel efficiency is kept down deliberately as the technology exists for more fuel efficient vehicles which are hushed up. Cars can be hydro cell powered too.
Car owners are really registered keepers of revenue collection devices and not owners as such so they are not allowed to tamper with the fuel efficiency of their cars.
The Government does not want to develop alternative energy sources so they pay the patents of producers of them to shut them down.
Stan Meyer, the water fuel cell inventor, was murdered shortly after he made a deal with the Pentagon.
Japan will not allow fracking on Japanese land and has developed a way of harvesting sub sea methane hydrates.
We have a downloadable letter template to send to your MPs, MEPs, councillors, AMs, etc. It is in the Campaigns section.
For more info and to here Ian's talk in full his DVD is now available at this link: FRACKtured Future DVD