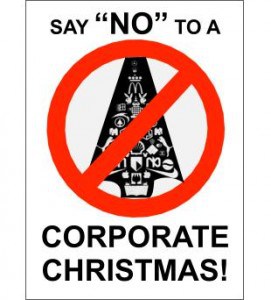 Are you aware of how much the corporations control us and how most of your actions and the mainstream views are corporate driven by their thirst for control and profit? The corporations benefit so much at Christmas as their propaganda has slowly turned it into a commercial mass of hysteria catching everyone up in materialism and debt. It is time we told them in the only way they will understand that we have had enough! It is time to TAKE OUR POWER BACK!
This Christmas (or if you don't do Christmas, just do this anyway!):
1. BUY YOUR GIFTS FROM INDEPENDENT BUSINESSES, PREFERABLY LOCAL
This is so important as every pound you use is like a vote. So by buying a product you are voting for that product, for that store and for any corporation that ultimately owns it, manufactures it or holds the patent for it.
In addition you will be giving your money to someone who will use it to food, clothe, house, buy gifts for their family – they are REAL people! So even if something will cost you a little bit more, you can have the immensely empowering feeling of making a difference to that person and their family.
2. BUY FOOD FROM INDEPENDENT STORES, ORGANIC FARMS, ETC
Again, every pound you spend is a vote, so do not vote for what you do not want! Buy from your local greengrocer, butcher, bakery, etc or why not try farmer's market or farms too?
Organic farm networks such as Riverford and Abel & Cole are such a great convenient way to obtain great value organic foods if you have nothing local to you.
3. USE CASH WHEREVER POSSIBLE
This helps to take the money OUT of the corporate controlling banks, and stops them from earning even more money with fees and interest on every transaction they handle. It also means that the traders you buy from do not have to pay these fees so they are able to keep the whole amount (apart from any VAT due).
4. MAKE YOUR OWN GIFTS
Traditionally people made their own gifts and cards, why not take this option – or give gifts like pamper sessions, or trade offs, if you are a hairdresser give a hairstyle, if you are a mechanic give an MOT for example!
5. SPEND TIME NOT MONEY!
If you have children, set the right example. Give thoughtful not expensive gifts, or have a 'traditional' Christmas where you spend more time than money. It is possible to do this, I know from experience! Spend time playing games, make your Christmas treats together, switch your phone TV and computer off and spend quality time!
This is a great way we can all make a difference and the more people who do this the bigger the difference will be. Put your SPENDING POWER into action this Christmas, and please spread awareness of this campaign!
POSTERS & LEAFLETS
Here are some posters and flyers you can download. We are sure that independent shops will proudly display a poster, and maybe have some flyers, in their windows as it is them who will benefit from this!
Also why not ask your libraries, doctor's surgeries, schools etc to have some flyers and/or display posters?
The following files are PDF files:
A4 Poster in colour – CLICK HERE
A4 Poster plain – CLICK HERE
A5 flyer (2 per A4 sheet) – CLICK HERE
'Meme' image to share on Facebook (click on the image for a larger version) –