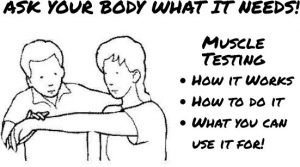 Monday 5th Feb 2018
Taffs Well Village Hall, 6.30pm – 9.30pm
Come along to meet with like-minded people and chat openly in a safe and non-judgmental environment.
At our February meet-up, Danielle will show you how to muscle test to find out what is good and bad for you, what supplements you need and which ones you are wasting money on, and even how to reveal if any blocked emotions are holding you back (and how to release them).
NOTE: there is a lot to cover in this workshop, so we may leave the emotional part until a later meet-up depending on how time goes. If we do not cover the emotional work and postpone it to a future meeting, we will decide as a group when that will be!
Please bring along foods, supplements, etc that you wish to test yourself on!
As always, suggested donations of £5 to cover room hire and refreshments are very gratefully received. Also if anyone wants to bring along some healthy snacks or cake to share (and recipes if home-made!) you are very welcome!
If there is time we will finish with open discussions!