Fallacies used throughout EU referendum
This article is work in progress but I just had to get something online as soon as possible
See the following picture:-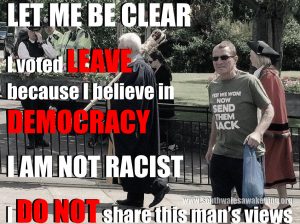 The original photo is typical of the imagery being circulated on social media and news outlets to fuel the separation of our nation. The opinion of the man pictured is that of a tiny minority, yet it is trying to be portrayed as the opinion of everyone who voted leave. This is a logical fallacy, the part to whole.
Other fallacies perpetuated throughout this referendum include;
Ad hominem attacks, Red herrings, Appeal to Authority, Appeal to fear, Appeal to popularity etc.
to be continued..
See www.fallacydetective.com for an excellent resource to help you learn about fallacies (or search for 'logical fallacies')