The Bridgend Suicides – Could Theatre be a factor?
The following article is a draft that was to be published in the Sunday People, but it was pulled at the last minute for unknown reasons.
DRAFT BEGINS:
In November last year government theatre and arts expert Philip Blight took a ligature and hung himself from a beam in a tiny Welsh hamlet. The Coroner ruled the 53 year old married father of two had been depressed when he refused counselling and took his own life.
Phil Blight died seven years after the first teenage victim of the Bridgend suicide cluster had hung himself in a seaside fairground near the town.
But Phil Blight killed himself just three weeks after he'd been accused of responsibility for the deaths of the 79 youngsters in the Welsh borough and triggering the biggest teen suicide cluster in modern history.
Claims were made during a radio station interview the 53 year old Arts Policy Officer of the Welsh Assembly had helped plant powerful suicide triggers in dramas and theatre workshops produced for community outreach projects.
The claims were made in blogs and on a right of centre digital TV station and focus on Phil Blight's time as a trustee and manager of the Cardiff based NoFitState Circus.
Their stunning performances have been acclaimed by critics throughout Europe but they contain rep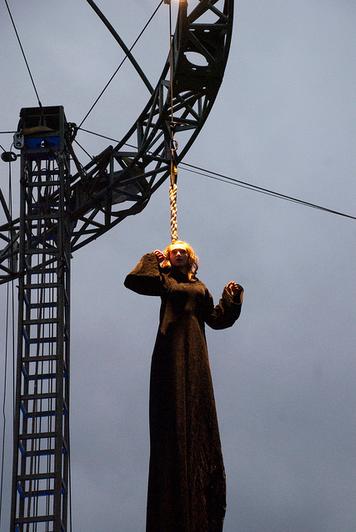 eated imagery of suicide by hanging which are powerful and disturbing. The potential for harm from these scenes is now being underlined by leading suicide experts.
And the Sunday People has learnt Mr. Blight had a very unusual CV. He was an expert in powerful psychological techniques like neuro linguistic programming and the use of mind triggers known as 'nudges'. In blogs he styled himself the 'Jedi Nudger'.
We have learnt too he attended courses run by the Intelligence Service at MI5's top secret GCHQ base in Cheltenham. He also arranged for Welsh assembly bureaucrats to go on similar courses at GHQ which are understood to include advanced 'management' skills like neuro linguistic programming or NLP.
As well as NLP Mr. Blight went on courses to study other, semi hypnotic, mind control techniques like "disruptive innovation", subliminal behaviour modification and cognitive edge training He also had strong links to the growing 'population decline' lobby including some radical eco groups which are calling for an 80% human depopulation of the planet.
The allegations against him were made by a neighbour in the tiny hamlet of Rudry near Caerphilly where Mr. Blight and his wife Samantha set up home around 2006. The couple quickly became involved with the unelected village community council and the management of the village hall.
Tim Rogers, who lives next door to the hall, had been in conflict with the committee over noise and disturbance for some years. But when a play filled with Satanic imagery and depictions of suicide was put on at the village hall he complained to Phil Blunt and the committee.
Said Mr. Rogers, "I couldn't understand why children were being made to watch what I believed was dreadful material that would mess with their heads. I went head to head with Blight and within days a police harassment order was made against me.
"I have been in conflict with him since that time until his death. I make no bones about it I decided to go online and look for any skeletons I could find on him. I was looking for divorces, court cases, bankruptcy. I couldn't believe what I did find. At first I was shocked then I was angry. His background was all NLP, MI5 and extreme eco groups.
"While I studied what nudging and NLP were all about I was also looking at his work with the circus. I saw they were putting on repeated depictions of suicide in the most stunning settings with hypnotic music. They seemed to be romanticising suicide and glamorising it. Then I saw Blight was with them in Bridgend as a manager just before the suicide cluster started and I began to believe the two were connected.
"For the last 18 months I have been trying to get the authorities to listen but I think there's a cover up which is no surprise in the UK we live in today. The only people who would listen were Christian groups and eventually I was interviewed on the radio show. I've repeated the allegations online.
"Someone in the village told me Blight had expressed the fact he was extremely worried by that broadcast and the next thing I knew he'd taken his own life. I don't know if the two things were connected.
"I believe it is imperative that someone in authority takes the link between theatre and suicide very seriously. Radical theatre in the UK is awash with suicide themes and images of suicide and it cannot be healthy. Why are so many youngsters turning to suicide as a solution to their problems? I believe it's because it has been glamorised."
The Sunday People approached some of Mr. Blight's colleagues on the parish hall committee in Rudry at the time including his wife Sam Minas-Blight who said………
We also spoke to Lindsay Foyster who was a committee member and is a suicide expert and director of the mental health charity Mind in Wales. She was previously involved with community theatre and is believed to have worked with Phil Blight on productions in the Bridgend area.
She said…………………….
The village hall chairman, scientist Dr. Christopher Allender, is a biological warfare expert. He said………………..
NoFit State Circus had historical links to Bridgend which was the site of their training camp in the early days before they won acclaim for their highly skilled performances.
They were back in the borough in August 2006 to stage their highly praised pr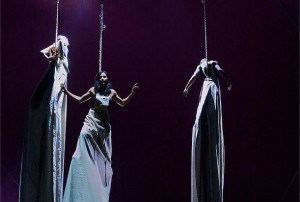 oduction ImMortal at the Grand Pavillion on the coast at Porthcawl. ImMortal, like another production Bianco, has cleverly staged hanging scenes with young women slowly hauled up on ropes which appear to be nooses.
Outreach groups connected to NoFit State are also believed to have been active in the Bridgend area putting on workshops and skill studios until November. However exact information on NoFit State activities from 2005 to 2007 is difficult to find. The companies own timeline blog which catalogues their activities over 20 years has apparently had those years redacted. They are not included in similar lists on theatre websites and neither are they available in NoFit State's annual submission to the Charities Commission.
During that time troubled young man called Dale Crole, 18, hung himself in a disused shed on the Coney Beach funfair in Porthcawl. His body was found on January 5th 2007 and his death is said to be date the first of the cluster although he actually committed suicide four months earlier in September.
It also understood that four other youngsters took their own lives in the Bridgend area before Dale's body was found and a cluster was declared. A journalistic investigation of the cluster is difficult as the media does not report cases on the request of the police to stop copy cat suicides – a phenomenon known as the Werther Effect.
Two of the world's leading experts on suicide looked at the suicide imagery in the NoFit State productions and both expressed grave concern and called for an urgent investigation.
It's believed most of the seventy nine young people in the Bridgend cluster hung themselves and the productions – ImMortal and Bianco – were singled out for particular criticism by the experts. Both productions advertise there is no lower age limit on audiences.
There was speculation that social media may have been the responsible for spreading the contagion of suicides in Bridgend but it's understood police didn't have the resources for a time consuming examination of victims online accounts to see if there was a link.
In 2010 the media agreed to a police request to stop reporting suicides in the area because of the fear of copycats. However this effectively prevents detailed journalistic investigation of the underlying causes.
Leading UK suicide expert Dr. Arthur Cassidy, formerly of Queen's University Belfast, says such scenes contravene the Suicide Act which forbids the glamorising of suicide.
He said, "I have viewed images and videos from these productions and on a scale of 1 to 10 of the worst suicide representations I have seen in Europe these rate eight or nine.
"They are glamorous and beautifully staged with great sound tracks and I believe they represent a real danger to young people as hanging is a profoundly powerful symbol in the human psyche.
"This is a very difficult area for the media to investigate thoroughly as editors have agreed not to report cluster cases because of the danger of copy cat suicides. However the role of the Sunday People must be to draw this to the attention of the authorities.
"I have viewed the images without any preconceptions about the cause of the Bridgend cluster but it needs to be addressed urgently and these productions should be voluntarily halted or the controversial scenes omitted until it has been.
"The police should be looking at this as a possibly serious breach of the criminal law under the Suicide Act. They should be examining whether powerful semi hypnotic tools like NLP have been introduced into the productions and workshops. The government should also be examining this as an urgent public health issue.
"I find the ImMortal and Bianco productions particularly disturbing with their romantic and enticing imagery of women who appear to be hanging by the neck.
"One of the things that has emerged from suicide clusters is the perception that many vulnerable youngsters seem to believe they were in some way immortal. Death isn't permanent, they think, it's a transition you go through. Then you come out in some different state, almost like a butterfly metamorphosing, to join your friends again. Productions like ImMortal seem to be directly feeding that terribly dangerous perception.
"I also question the use of theatre and drama workshops introduced into cluster areas as a strategy to prevent more suicides. They use the same techniques and actually show children more images of hangings. Local councils rightly believe media reporting of suicides can cause copycat incidents. It follows then that showing more images of suicide to children as a therapy is also likely to have a Werther effect? Such interventions are deeply misguided.
"I also question why the people who put these productions on haven't thought about the effects of what they are doing? They must be intelligent adults. Has it not crossed their minds."
Professor Steve Stack is the world lead on links between art and suicide and is editor of an academic book called The Creative Arts and Suicide.
He said, "I have never seen any theatre so extreme in terms of suicide imagery here in the States. There may be many factors influencing a suicide cluster in an area like Bridgend in Wales; unemployment, use of drugs, social media. There's also the issue of copy cat deaths – the so called Werther Effect.
"Such compelling imagery in live theatre could indeed provide another trigger. It would not necessarily have to be seen by all those who join the cluster.
"It could provide what we call a second step trigger. One person could see the production or be involved in drama workshops, assimilate that powerful experience. They would be the first step then they would pass it on in contagion to their friendship groups perhaps through social media.
"This has to be investigated by the competent authority to find out just what the effect of theatre has been because on the face of it these productions could be culpable."
Professor Stack recommended a radical approach using 'CSI across the grave.' He said, "The authorities need to urgently find out if drama is a factor in these clusters.
"They should first perform psychological autopsies on the victims of the Bridgend cluster. The first stage of this would be a fairly simple form listing factors that could then be ticked off by the loved ones and friends of the victims. It would be simple matter to have theatre experiences in that list."
Prof. Stack had one more observation. When told that no age limit was set on the NoFixedState productions of ImMortal and Bianco he said, "I find that completely bizarre."
By 2008 a multi-agency board in Bridgend had drawn up a suicide prevention strategy targeting schools, colleges and youth groups. £2m of Lottery funding was made available for initiatives like a telephone helpline and peer support training of youngsters.
The charity Mind was given £1m to fund interventions but it's understood they introduced drama as a therapy. A film called Wristcutters is said to have been shown in the area which has an opening scene of a young man slitting his wrists and another scene of a young boy with a rope around his neck who wants to hang himself.
A cartoon called Lucky for Some is also believed to have been shown featuring a dog attempting suicide in various ways, including hanging, before he is run over by a bus.
The director of Mind Cymru , the Welsh arm of the charity, is Lindsay Foyster who is believed to have been involved with NoFitState circus in 2006 when she lived in Bridgend. She was appointed Mind Cymru director in the same year.
Ends
NOFIT STATE COMMUNITY CIRCUS LTD
Samantha Minus Blight
Admin/Projects Officer 2005 – May 2010
Source: Samantha Minus Blight Linkin: http://uk.linkedin.com/pub/samantha-minas/28/92/857
Phil Blight Board member at NoFitState Circus
Source
http://www.cloreleadership.org/page.php?id=73
developing Tell Me …Lies, they created partnerships with mental health
organisations such as SANE and Mind.
Source
http://www.indielondon.co.uk/Theatre-Review/tell-melies-arts-theatre
* The title of this article has been changed from:-
The Bridgend Suicides – Could Theatre be the cause?
to
The Bridgend Suicides – Could Theatre be a factor?
Other than that, the entire article is reproduced verbatim as it was contributed to the group.